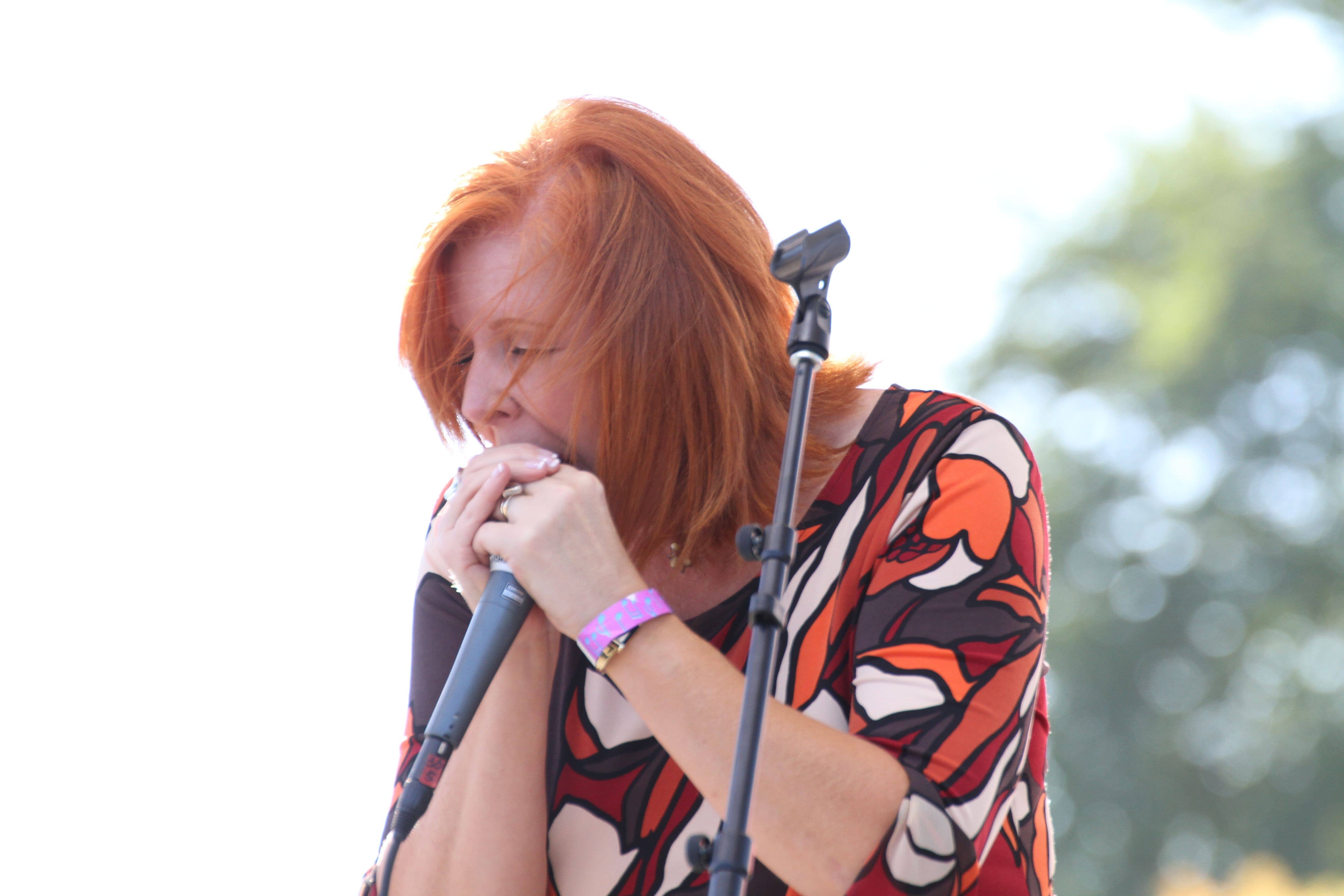 "She has great tone on the harmonica and by listening to her play one can tell she has paid her dues."
-
Billy Boy Arnold
"Geneva Red plays with a driving style that touches all the ancestral bases."
- LIVING BLUES MAGAZINE, USA
"
The gal has mastered the instrument from which she pulls originality and freshness."
- IL BLUES MAGAZINE, ITALY
"Killer harmonica playing. When it comes to the Special 20, Red is a standout."
-HOHNER HARMONICAS, EASY REEDING MAGAZINE
"She has great tone on the harmonica and by listening to her play one can tell she has paid her dues."
- BILLY BOY ARNOLD
Geneva Red is one of the few female instrumentalists performing on the "blues harp" and leading her own band. Couple her outstanding harmonica ability, strong vocal talent, and high energy show, and you've got the chemistry that immediately establishes her as a rare and exciting performer.
Three Danceable Ensembles
Juke Joint Duo - Electric
The Original

Delta Fireballs
"The Original Delta Fireballs are a throw back to old time blues ...a style they refer to as "Juke Joint Music." ...in the same traditional manner as the one man bands of Beale street Memphis and Chicago's Maxwell street. ...This pair has taken the humble duo format and revitalized it."
--Big City Rhythm & Blues Magazine
"...this duo set featuring vocalist-harpist Geneva Red and one man band Jackie Wolworth is raw in every aspect; from Wolworth's Joe Hill Louis - style drumming to his moiling, writhing slide-guitar work... Red shows a delectable toughness as well..."
--Living Blues Magazine
"You own the one man band thing and I had Dr. Ross on this very stage."
--Eric King - Blind Willie's, Atlanta, GA.
"Your the best one man band unit I've ever heard!"
--Jimmy Johnson - Chicago Blues Guitar Legend
Introducing the classic "Juke Joint" Duo. This foot stompin' ensemble was started in 2000. Geneva Red plays harmonica and sings, while her Roadster's guitarist Jackie 5 & Dime plays guitar and drums at the same time in the tradition of Memphis musician Joe Hill Louis and Chicago's "Baby Face" Leroy Foster. The Original Delta Fireballs form a classic sounding unit playing danceable "Juke Joint" music. This energetic rough and tumble style is well known through out the rural southern levee and plantation towns that dot the Mississippi River Delta.
They have the ability to sound like a whole band without the use of pre-recorded music gizmos.
Four Piece Band - electric
Geneva Red & The Roadsters
"The sound is classic 50s Blues, and Chicago-based Geneva Red plays with a driving style that touches all the ancestral bases...Blues fans who like harp, solid vocals, and an original playlist that spans the history of the form will enjoy Geneva Red & The Roadsters."
- LIVING BLUES MAGAZINE, USA
"
This Chicago based band is sharp and tight...Playing their own style of blues led by Red's virtuosity on the 'blues harp'."
- LINCOLN JOURNAL STAR
"
When a tall, slender, flame-haired beauty named Geneva Red and her band, The Roadsters hit town during the winter and played Blues Station, the audience screamed, "Wow! let's get this bunch back!!!' She's back in a big way..."
- SUNFLOWER RIVER BLUES & GOSPEL FEST PROGRAM
"For the last 60 years I guess we've always opened with SonnyBoy Williamson or Robert Lockwood Jr. or even James Cotton, but for today we wanna open with a young lady that's just too much for me to handle on that harmonica."
-SUNSHINE SONNY PAYNE - Legendary
King Biscuit Time
blues radio host January 18th 2006, the world radio premier of Geneva Red & The Roadsters CD
Gettin' Cocky
on 1360 KFFA Helena AR.
The Roadsters are a sharp tight knit unit, and are adept at providing just the type of musical backing that is sympathetic to, and propels an artist like Geneva Red to go deeper into the mood, feeling, and pulse of the song. This communication and energy helps to make each performance of Geneva Red & The Roadsters something special. When it's time for another member of the band to step into the spotlight, the band shifts gears smoothly so the performer can pump it up or bring it down, whatever feels good to deliver their own soulful statement.
The Cafe Percolators are similar to The Original Delta Fireballs but unplugged and all acoustic. This ensemble is specializing in danceable performances for the more intimate venues that don't require louder volumes. Come out and see 5&Dime's unique OMB cocktail drum. Now you have three ways to see a performance by Geneva Red.
Educational program packages
Dear Educator:
We'd like to introduce you to our special music performance and workshop packages. For decades The Original Delta Fireballs have brought their traditional "Juke Joint" style ensemble to adults of all ages in nightclubs, restaurants, festivals, and special events throughout the nation. This music duo also offers students a chance to experience an educational live performance starting with two different basic presentations, "The Muddy Mississippi" (performance), and "Geneva Red's Harmonica Workshop" (performance, plus a "hands on" harmonica workshop). Both are fun and captivating experiences, and can be customized and expanded on with the options below.
Harmonica Workshop for the blind

Artist In Residence

Highschool Jazz Band (addition)

Special Things (expansion)
Click Photos Below To Visit Pages